If you work in a laboratory, then you know that environmental chambers are an important piece of equipment. But what are they, and what do they do? In this blog post, we will discuss environmental chambers and their many uses. Additionally, we will talk about the importance of lab equipment calibration and how to find a qualified lab equipment technician in the Tri-State Area to help you with this process.
What are Environmental Test Chambers?
Environmental chambers test the effects of different types of environments on products or materials. These chambers can simulate a variety of conditions, including changes in temperature, humidity, and altitude. They can also create an environment with specific levels of dust, vibration, and other factors.
There are many types of environmental chambers on the market today. The most common type is the temperature chamber, which tests how products or materials respond to extreme changes in temperature. These chambers can reach very high or very low temperatures, depending on the needs of the user. Other common types of environmental chambers include humidity chambers and altitude chambers.
Some Conditions Found in an Environmental Chamber:
Temperature Variations. Creating temperature variations is one of the most common usages of an environmental chamber. This can involve either making the chamber very hot or very cold. Chambers also create a range of temperatures, such as those experienced during the seasons.
Humidity. Another common condition created by environmental chambers is humidity. These chambers can create a range of humidity levels, from very dry to very wet.
Corrosion. Many environmental chambers have the ability to create salt spray. This is often used for corrosion testing.
Aside from environmental conditions, testing chambers can test the endurance and stability of the product or chemicals. Certain chambers will push the limits of the test through inertia, vibration, and impact.
Basically, a test chamber mimics the conditions a product will be exposed to when used.
Types of Environmental Chamber Designs
There are several common types of chamber designs. The most popular type is the walk-in design, which allows the lab techs to place multiple shelves or racks inside the chamber. Other designs include bench top, floor mount, reach in, and drive in. Depending on their usage, they range in sizes from portable devices to giant rooms. For instance, the world's largest is NASA's vacuum chamber.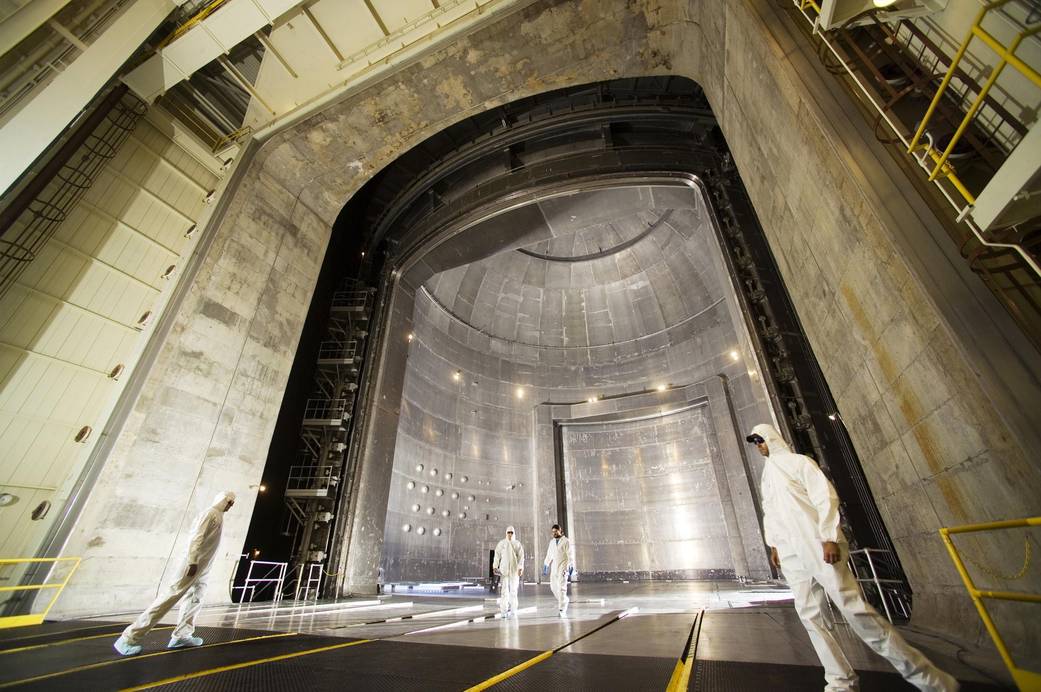 The Space Power Facility at NASA Glenn Research Center's Plum Brook Station in Sandusky, Ohio, houses the world's largest vacuum chamber. It measures 100 feet in diameter and is a towering 122 feet tall. The facility is currently undergoing construction to support Orion crew exploration vehicle testing in 2010. Image Credit: NASA/Michelle Murphy (WYLE)
Applications for Test Chambers
Environmental test chambers have a variety of purposes. However, their primary goal is to improve product reliability. This is done by testing it under extreme conditions that it will face during its lifetime. This allows manufacturers to make changes to the product before it reaches consumers, ensuring that it meets all quality and safety standards.
Basically, test chambers are found in almost every type of manufacturing.
Some common applications for environmental chambers include:
Aerospace industry. Environmental chambers test airplane parts and materials for strength, stability, and resistance to extreme conditions.
Pharmaceutical industry. Chambers test the stability of drugs and medicines, as well as the effects of long-term storage on their potency and efficacy.
Consumer electronics. Environmental chambers test the effects of long-term exposure to light, heat, humidity, and other conditions on electronic devices.
Auto industry. Chambers test vehicles and car parts for durability in extreme heat, cold, humidity, and altitude.
Each year, Ford brings global prototype vehicles and a team of engineers to the world's largest climatic test facility – McKinley Climatic Laboratory at Eglin Air Force Base in the Florida panhandle – to push the limits of extreme cold-weather testing in order to improve vehicle quality and performance for customers.
Standards for Testing Chambers
There are several international standards that apply to environmental chambers. International Standards Organization (ISO) is an independent, non-governmental organization. They are the world's largest developer of quality standards.
Standards that apply to environmental chambers include:
| | |
| --- | --- |
| ISO 10605 | Road vehicles |
| ISO 16525-7:2014 | Adhesives |
| ISO 1400 | Environment management systems |
| ISO 16428:2005 | Surgical implants |
| ISO 7137:1995 | Airborne equipment |
| ISO 9022-20:2015 | Optics and photonics |
The most important consideration when choosing an environmental chamber is ensuring that it meets the specific requirements of your application. Talk to a lab equipment specialist at Cryostar Industries to find the right chamber for your needs.
Testing Chamber Repair and Calibration
Cryostar Industries offers environmental chamber repair and calibration services for all types of chambers. We have a team of highly trained and experienced technicians who are familiar with the inner workings of these devices. As such, we are able to quickly identify and fix any issues that you may be experiencing.
We understand that your business may rely on these chambers, which is why we offer a fast turnaround time for all of our services. In most cases, we are able to repair and calibrate your chamber within 2-3 days. However, if you need your chamber urgently, we also offer a same-day service.
3 Basics of Environmental Testing Chamber Repairs
1. Temperature Control: We make sure that the temperature within the chamber is accurate and remains stable. This is essential for ensuring consistent results from your tests.
2. Humidity Control: We also ensure that the humidity levels within the chamber are accurate and remain stable. Just like with temperature, consistent humidity levels are essential for achieving accurate test results.
3. Pressure Control: We check that the pressure within the chamber is correct and that it remains stable. This is important for achieving the correct results from your tests.
5 Benefits of Environmental Chamber Calibration
1. Improved Test Results: Ensuring that the temperature, humidity, and pressure levels within your environmental chamber are accurate and consistent will lead to improved test results.
2. Enhanced Productivity: If your environmental chamber is not working correctly, it can lead to delays in testing. This impacts productivity levels. By calibrating your environmental chamber, you can help avoid these delays and keep productivity levels high.
3. Reduced Costs: Incorrect temperatures, humidity levels, or pressure levels within an environmental chamber can lead to wasted resources. Calibrating your environmental chamber can help reduce these costs and save you money.
4.Improved Product Quality: If you use an environmental chamber to test products, it is important that the chamber is correctly calibrated. This will ensure that the results of the tests are accurate and reliable.
5. Enhanced Safety: In some cases, incorrect conditions within an environmental chamber can lead to safety hazards. By calibrating your environmental chamber, you can help avoid these hazards and keep everyone safe.
Chamber Calibration Frequency
Basically, lab equipment calibration ensures the functionality is accurate and reliable. Like other measuring equipment such as pipettes, an environmental chamber's accuracy will waver over time. Clearly, this impacts its performance.
"How often should I calibrate my environmental chamber?" is a question we get a lot. The answer depends on several factors, but as a general rule of thumb, we recommend calibration at least once per year.
Other factors that prompt calibration include:
Trauma to the equipment
Before or after a large project
Manufacturer recommendations
Choosing a Lab Equipment Repair and Calibration Company
Once you've decided that your environmental chamber needs maintenance or calibration, it's time to select a company.
Lab equipment is sensitive, and entrusting it to just anyone is risky. You need a company with experience, precision, and a dedication to customer service. That's where Cryostar comes in.
Our team of highly trained technicians are experts in environmental chamber repairs and calibration. We're dedicated to providing our clients with the best possible service – every time.
So if you're looking for a long island environmental chamber repair and calibration company you can trust, look no further than us! We'll make sure your equipment is running like new in no time.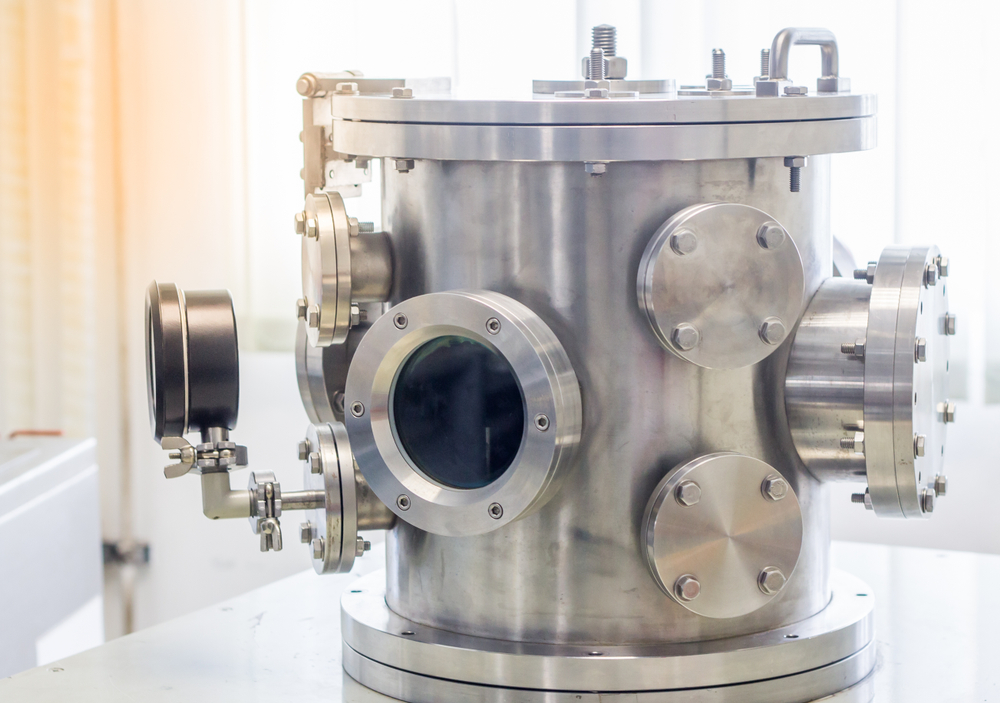 Call for Immediate Lab Services
Long Island, Nassau & Suffolk County
Call: 516-333-4006
The Bronx, Manhattan, Brooklyn,
Queens, & Staten Island
Call: 718-885-0833
Albany & Southern New York State
Call: 800-564-5513
Piscataway, Northern & Central New Jersey
Call: 800-564-5513
Danbury Connecticut & Surrounding Areas
Call: 203-748-7343
24/7 Emergency Service
Call: 1-800-564-5513