Cryostar Industries provides quality ultra low temperature freezer repair service in Long Island, New York City, New Jersey, Connecticut, and surrounding areas. If you Laboratory relies on ULT freezers, then you know that its vital to have a lab equipment maintenance company on-hand.
Ultra-low freezers, also known as ULT freezers, are designed to protect samples. Additionally, they are designed to maximize storage depending on your lab needs. There are a wide range of styles, including upright and chest style freezers. Regardless of your freezer type, you can depend on Cryostar to maintain and service your ULT freezer.
ULT Freezer Repair Service that You Can Trust
Eventually, your laboratory freezer will need to be repaired. Whether you are in Connecticut, Long Island, or New Jersey, you can trust qualified technicians at Cryostar.
Our team will help keep your lab running smoothly and efficiently. Even minor issues such as the freezer gasket seal being loose can affect your daily operations.
OEM (Original Equipment Manufacturer) Freezer Parts
In order to provide the best service possible, our field service trucks are well stocked with manufacturer parts. Your ULT freezer will be repaired quickly and easily.
Factory Trained Technicians
All of our service technicians are factory trained and certified by the manufacturers. We are available 24/7 for all your ultra low temperature freezer repair needs. In the event of an emergency, there's no time to waste when it comes to ULT freezers. Our technicians are on-call, waiting to be dispatched to your lab immediately.
Why Choose Cryostar?
We use only NIST-calibrated equipment for the best ULT freezer repair
Rental freezers are available so that you can continue your lab operations while the repair is taking place
Our service agreements can be customized to fit your laboratory equipment
We provide prompt service, often within the same day
Based on your facility's needs and regulations, ULT repair service can be done on or off site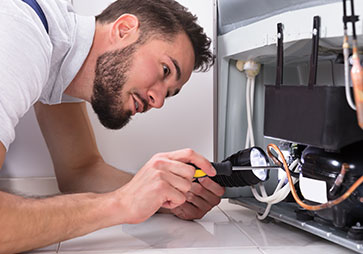 Contact Us Today for
Ultra Low Freezer Repair Service
Get the right services for your lab equipment today. Call us directly at 1-800-564-5513, or fill out a Service Request Form.