Cryostar offers several types of service agreements. These can be customized to meet your desired level of coverage. Our two most common agreements are Preventative Maintenance Contracts and Full-Service Contracts.
Based on the customers' requirements, N.I.S.T. Calibrations/Validations can be added to any level agreement. These services are offered to our customers to detect any operational issues. Additionally, it will minimize the down-time of your laboratory equipment.
Preventative Maintenance Agreements
Our Preventive Maintenance contracts provide semiannual visits per contract year. This contract includes a thorough inspection of the mechanical operation, verifying the display temperature, and performing general maintenance. General maintenance includes services such as cleaning the condenser and filter.
All inspection data is documented in our system, and reports are provided to the customer for record-keeping. Additionally, Maintenance Labels are applied to all units for the customers to view.
One of the main advantages of this type of contract is that it lowers yearly costs while providing equipment with necessary attention. Our Preventative Maintenance contracts will help avoid any premature failure of your equipment, as well as maintain the safe storage of your valuable product.
Full-Service Agreements
In addition to the Preventative Maintenance services, our Full-Service agreements includes all parts and labor to maintain the refrigeration, mechanical, and electrical systems.
Loaner Unit Priority
Our contract customers receive Loaner Unit Priority for equipment repairs. Loaners can be delivered during normal working hours; 8am-4pm Mon-Fri.
Scientific Equipment Service Agreements
from Cryostar Industries
Our top priority at Cryostar Industries is to reduce the stress related to equipment failure. Furthermore, we can provide customers with speedy repairs, which will reduce downtime in laboratories.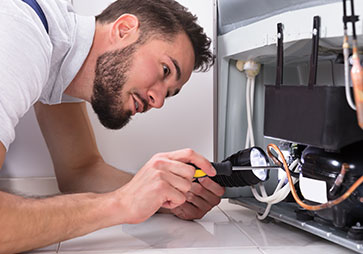 Contact our Contract Administrator or Salesperson for more information on our service agreements. We can provide you with a quote designed to meet your individual lab equipment requirements.
Call us directly at 1-800-564-5513.