Scientists worldwide rely on laboratory CO2 incubators to perform at their best and deliver outstanding results. And when it comes to incubator repair and maintenance, Cryostar offers a variety of solutions to keep your incubators performing their best. Our CO2 incubator calibration, repair, and certification services are your one-stop solution. Essentially, our services protect your investment and ensure contamination prevention and flawless growing conditions.
CO2 Incubator
Repairs
Obviously, bioscience labs can't afford to have incubators compromised. Naturally, you want stable temperature, humidity and performance. Therefore, we offer an extensive range of CO2 incubator repair services. Furthermore, we have 24-hour emergency availability – to always keep your unit functioning.
Our expert technicians are factory trained and certified by a wide variety of manufacturers. And they provide technical support, installation expertise and super-fast repair turnaround. Additionally, we rely on NIST-calibrated equipment for high quality repairs. Moreover, we offer flexible service agreements, customized to fit the needs of you and your lab.
CO2 Incubator
Calibration & Maintenance
Of course, all bioscientists rely on their CO2 incubators to store and preserve cell cultures. And without precise control, months of research can go to waste if your CO2 incubator is malfunctioning. Additionally, the calibration of your incubator will ensure optimal conditions in order to protect your specimens.
With state-of-the-art tests and equipment, Cryostar offers calibration to verify your CO2 incubator is operating to full potential. In addition, our technicians perform tests certified to N.I.S.T. standards. Essentially, these guarantee your unit meets quality requirements and produces outstanding results.
Additionally, our technicians can provide your CO2 incubator with preventative maintenance, decontamination and part replacements. And with routine maintenance and calibration, it can save your lab time and expenses in the future.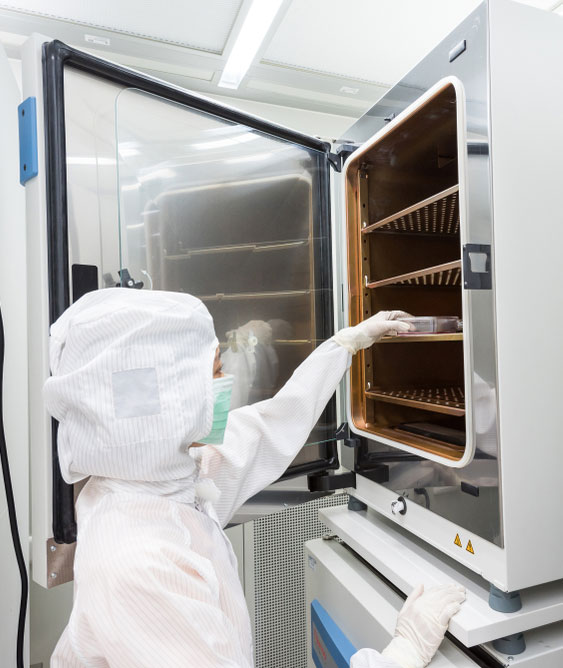 CO2 Incubator
Certification
Cryostar offers testing and certification for CO2 incubators. Basically, we use a wide range of techniques to verify they are performing at their highest capability. Each CO2 incubator is certified to meet NSF-49 guidelines and manufacturer specifications. And our technicians meet strict standard operating procedures (SOPs). Additionally, these remain in compliance with Federal and International Safety guidelines.
With routine certification, you can be sure your incubator is maintaining optimal temperature, humidity and CO2 levels. Basically, with each unit's certification, we not only perform a series of tests to evaluate the incubator's performance. Also, we provide official documentation for your lab verifying the results.
Cryostar's Service Areas:
Cryostar's primary office is located in Westbury, NY. However, we have a team of technicians ready to be dispatched throughout NY State, Connecticut, and New Jersey. If you call our office during regular business hours, we'll have a technician dispatched to your facility within a few hours.
No matter what time of day your lab equipment needs servicing, Cryostar is available for your emergency needs. Of course, the proper functioning of your equipment is vital to your lab's operations. Therefore, we're committed to providing professional, reasonable rates and prompt service when you need it.
CO2 Incubator
Maintenance Plans
Preventative Maintenance:
Cryostar's preventative maintenance is designed to provide facilities with optimal performance and stability. First, our technicians inspect, test, clean, repair and validate that your unit's primary functions are operating with absolute precision. Naturally, the cultured cells grown in CO2 incubators are often the product of months (or years) of careful research. Therefore, it's important to minimize loss with preventative maintenance. Essentially, Cryostar's maintenance is the most effective way to prevent malfunctions in the future.
Full Service Agreements:
A full service agreement with Cryostar is a guarantee that your CO2 incubator will remain functional and well maintained. Basically, with a full service agreement, your lab receives peace of mind. Our technicians will regularly attend to your incubator's needs. Essentially, this includes on-site repair, part replacements, unlimited technical support or emergency service.
---

Thermo Scientific Incubators:
Thermo Series
Heraeus Series
Barnstead Series
Forma Series
Napco Series
Revco Series
Jouan Series

Panasonic Biomedical Incubators:
Cell-IQ Series
CytoGrow Series
MIR Series
PHCbi Series

Fisher Scientific Incubators:
IsoTemp CO2 Incubators
Large-Capacity Reach-In CO2 Incubators
Steri-Cult CO2 Incubators
Heracell VIOS 16Oi CO2 Incubators
These are just a few of the lab CO2 Incubator models and manufacturers we provide certification, repair & maintenance services for. Please contact us for a full list.