Cryostar offers environmental chamber repairs, preventative maintenance, equipment calibration, and certification services. We service labs in New York, Upstate New York, New Jersey, Connecticut, and surrounding areas.
Biological, electronic and food sciences (among others) rely on them everyday. Therefore, environmental test chambers must maintain constant, precise functionality. Each chamber simulates factors like heat, humidity, vibration and more. For example; QA professionals use test chambers to simulate an environment in order to uncover design flaws. Environmental testing chambers allow manufacturers know precisely how products will react to certain conditions.
Our technicians are factory-trained and certified by leading industry manufacturers. As a result, they can diagnose and repair virtually any chamber according to manufacturer recommendations. And, we offer 24-hour emergency services.
We know how inconvenient sudden breakdowns can be. That's why we have services in place to reverse any and all equipment setbacks. Ultimately, we work to ensure your lab never has to worry about faulty equipment.
Environmental Chamber
Repairs
At Cryostar Industries, we know the important role that environmental chambers play for your work and research. Any errors are more than a mere inconvenience. Breakdowns in lab equipment will result in production delays, poor quality and hefty expenses.
Your lab can't afford to lose production due to dysfunctional equipment. For every minute without a functional testing chamber, your team loses critical production time. They simply can't perform the necessary work. Therefore, our repair services are fast, convenient and effective as possible. Our sole motivation is always to identify what's best for your lab and then execute it. Above all, we keep your needs as our top priority from start to finish.
24/7 Emergency Repair Services:
Fortunately, we can provide emergency on-site visits or operating system guidance. Our technicians are factory trained and certified by leading manufacturers.
With incomparable experience and training, we'll ensure your chamber works flawlessly again as quickly as possible. Additionally, we'll stabilize your chamber to maintain precise temperature, humidity, light and all other features. Ultimately, we guarantee a seamless operation upon completion. And, we prioritize fast turnaround times to get your team back to work as soon as possible.
General Repair Services:
Ultimately, basic maintenance will keep your chamber, and lab as a whole, operating with total precision and cost-efficiency. Undoubtedly, scheduling these services are the surest way to consistently protect your investment and your work.
Get Chamber Repair Service Now
If you need services on equipment, complete form below and our staff will contact you immediately. Any emergency assistance, kindly call us directly at 1-800-564-5513.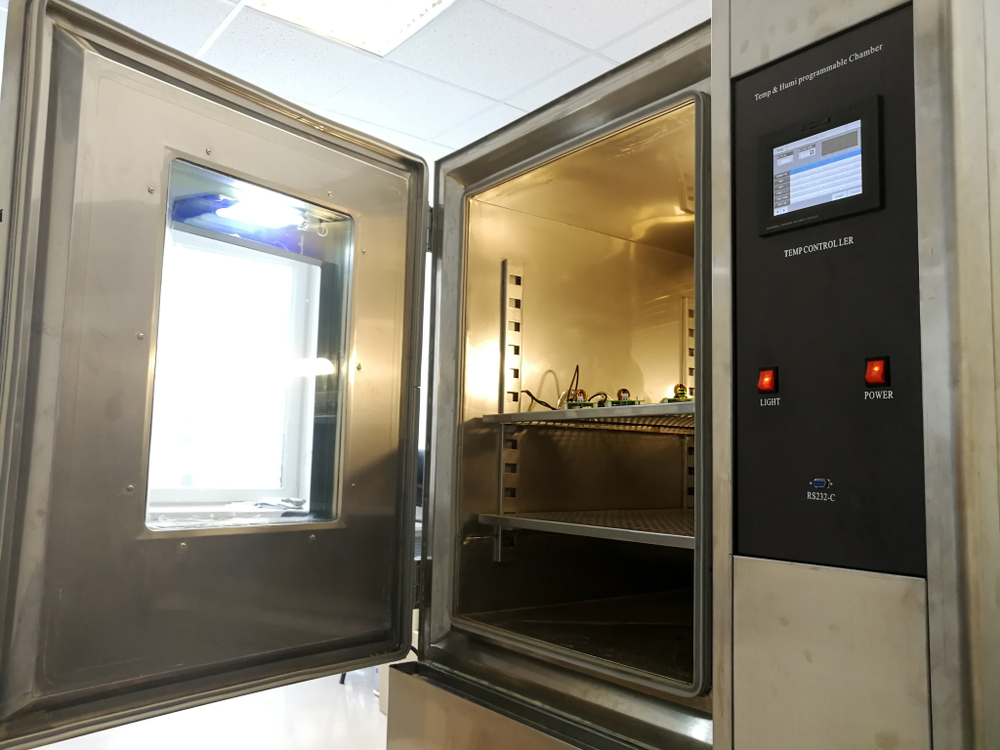 Scheduling regular repairs with our expert technicians eliminates the stress and headache of errors and breakdowns. In short, they will keep your lab's environmental chamber operating to its full potential. Most importantly, they deliver a quick, resolute solution to your problem.
Environmental Chamber
Installation
Our qualified technicians will install your testing chamber in any lab in the Tri-State Area. We have decades of experience installing lab equipment. From repairs to installation, we're your one-stop solution for all environmental chamber needs.
Additionally, our support staff will guide you through the entire process. This includes planning, placement, spatial considerations, setup and more, until the installation is complete.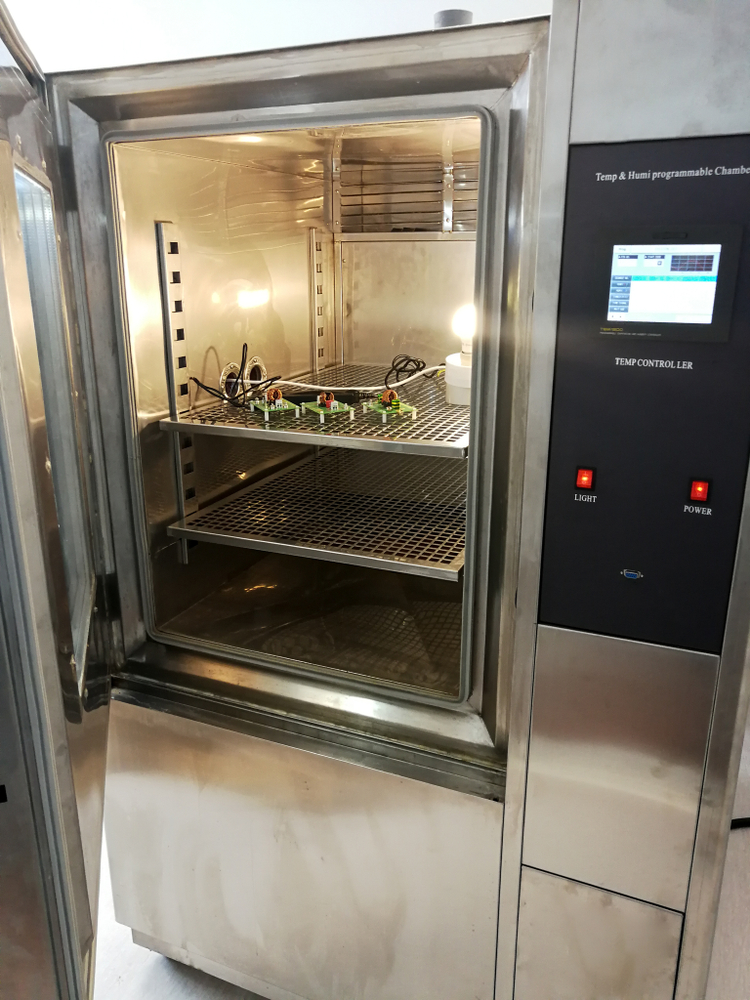 Environmental Chamber
Calibration
Calibration services verify and guarantee that your environmental chamber is maintaining perfect temperature, humidity, light, and vibration capability.
Cryostar's calibration services are the best way to ensure your equipment operates to industry standards. Our technicians perform calibration using test equipment to NIST standards. The National Institute of Standards & Technology provides technical insight and support to scientific industries nationwide.
Additionally, during calibration, we'll provide you with documents for each unit we calibrate. We apply report labels to each chamber. The information on each labels corresponds to the respective calibration documents. All of our reports meet FDA and ISO 9000 requirements.
Furthermore, we can provide calibration services on-site or within our ISO 17025-accredited calibration laboratory.
Environmental Chamber
Certification
Cryostar's certification services confirm that your unit is maintaining the precise conditions you need it to. Lab certification is important for a number of reasons. We ensure each chamber meets NSF-49 guidelines and manufacturer specifications. Our technicians apply the operating procedures which comply with Federal and International Safety guidelines. Furthermore, on-site certification will keep your chamber working and your team safe.
During certification, we employ a series of intricate tests. These tests confirm that the chamber's features like temperature, humidity and light are sufficient. We don't just evaluate performance. Also, we provide official documents for your lab which verify the results of our tests.
Cryostar's Service Areas:
Cryostar's primary office is located in Westbury, NY. However, we have a team of technicians ready to dispatch throughout NY State, Connecticut, and New Jersey.
No matter what time your lab equipment needs service, Cryostar is available for any emergency. The proper functioning of your scientific equipment is vital to your lab operations. Therefore, we're committed to providing  reasonable rates, and prompt service when you need it.
Laboratory
Maintenance Plans
Preventative Maintenance:
Preventative maintenance contracts give labs consistent, flawless performance and stability. Our technicians test, clean, repair, and confirm each function is operating seamlessly. Obviously, no lab can afford disruptions in their work; and lab maintenance of any kind can be a daunting task.
A preventative maintenance contract is the surest way to avoid inconvenience. Ultimately, disruptions cost your lab time, money and reputation. Our maintenance plans are the most effective way to prevent future malfunctions.
Full Service Agreements:
A full service agreement with Cryostar is a guarantee that your environmental chamber remains functional for the duration of its life. With a full service agreement, your lab receives constant, thorough maintenance. Therefore, you also receive the priceless benefit of stable peace of mind.
Our expert technicians will attend to your chamber's needs on a consistent, scheduled basis. This includes on-site repair, part replacements, technical support or 24-hour emergency service. Basically, a full service agreement with Cryostar is unlimited protection from the expense and inconvenience of technical malfunctions.